HUS INSEMINATION
Located in the heart of the Loire-Atlantique, the insemination centre's motto is: "Maximum fertility at the lowest cost for the breeder"
A modern and safe structure, with more boxes dedicated to embryo transfer
A team available 7 days a week and 24 hours a day; diligence is the key to success
Insemination with all French and European stallions
Range of stallions available as fresh semen
Fresh, refrigerated or frozen (deep) insemination, in limited doses, and in ICSI (in partnership with Avantea) thanks to the OPU that can be carried out on-site
Transfer of embryos on-site and receipt of refrigerated and frozen embryos
Herd of quality carrier mares, permanently available
Thawing and reimplantation of frozen embryos from ICSI
Sexing: it is now possible to determine the sex of your future foal before it is born! Foetal sexing is possible as early as 60 days and at all stages of gestation
OPU: Ovum Pick-Up. There are still a few places available for oocyte puncture! In partnership with Avantea. The punctured oocytes are sent to Avantea for ICSI, then the embryos obtained are returned frozen to be implanted.
Long-term Stay: Simplified procedures for mares coming from France and Europe for long stays.
New Facilities: For mares being transferred or in OPU, they can be maintained in condition thanks to the Havrincourt ring, the Oval Walker and the Round Pen.
Sports Objective: Work your sports mares with Gilles Botton, CSO rider. Possible preparation for sales, classic cycles, CSIs…
Let your mares benefit from the rigour and know-how of the Haras de Hus!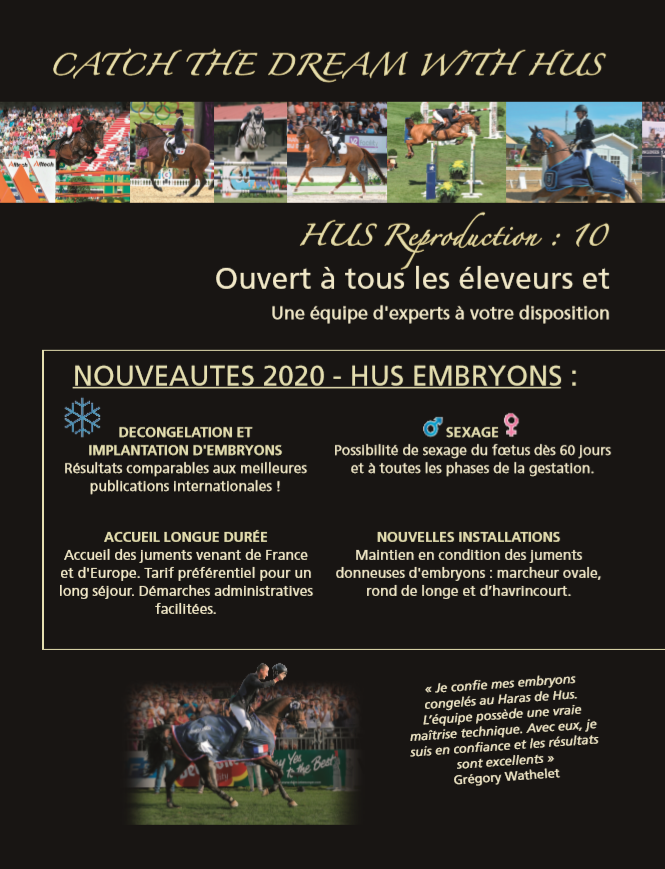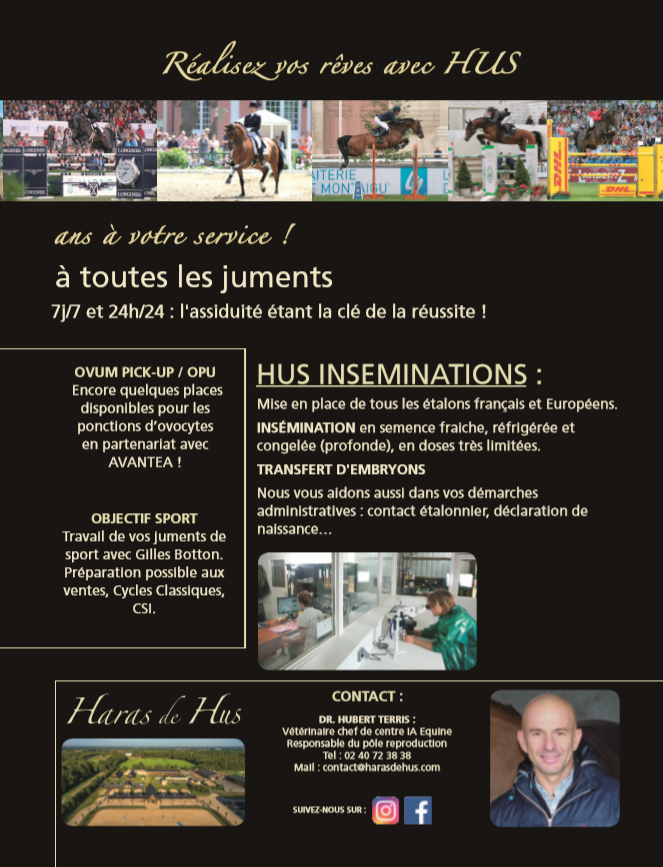 Thank you for the trust you have placed in us over the past ten years!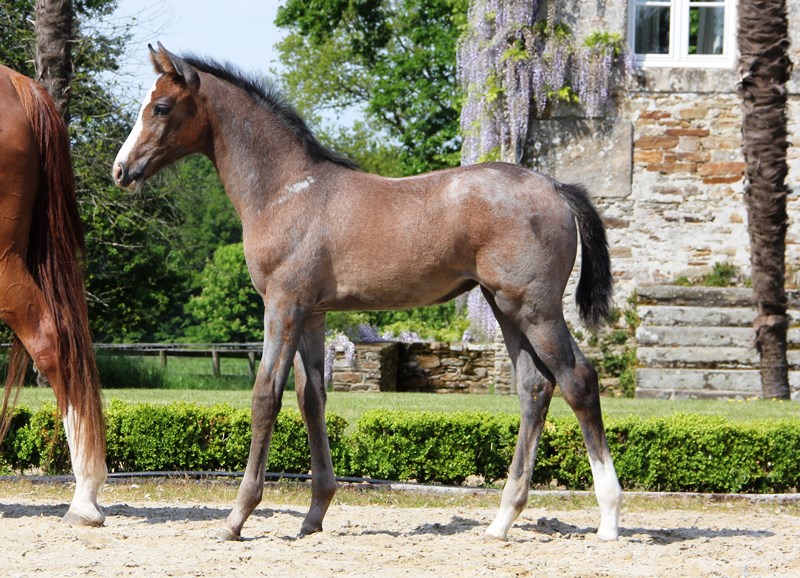 The Haras de Hus is for the 2019 season:
More than 90% in-foal mares at the end of the season!
80% transfer success at 14 days!
Your satisfaction is our best reward!


2020 RATES

We have chosen to implement a policy of reasonable pricing in order to make genetic progress accessible to all.

There are no surprises here!

All our fees are calculated as precisely as possible to ensure that breeders benefit from the best service and the best value for money.

INSEMINATION FLAT FEE (10% VAT)


Fresh semen (FAI): €60 exc. VAT per season
Refrigerated semen (RAI): €120 exc. VAT per season
Frozen Semen (FzAI): €170 exc. VAT per season

GYNECOLOGICAL MONITORING - ECHOGRAPHY - INJECTIONS

Rates are available on request at the following email address: contact@harasdehus.com


Our credo - continuously update techniques in accordance with the latest scientific advances!

EMBRYO COLLECTION AND TRANSFER (10% VAT)


• €300 exc. VAT, limited at €600 exc. VAT for the season and per contract
• Carrier mare rental: €2,500 exc. VAT (insurance possible)

EMBRYO THAWING AND TRANSFER (10% VAT)


• €300 exc. VAT per embryo
• Carrier mare rental: €2,500 exc. VAT (insurance possible)

BOARD


• Mare without foal at foot: €12 exc. VAT per day
• Mare with foal at foot: €14 ex. VAT per day


To help monitor your mares and avoid waiting, please make an appointment before you arrive at least 1 day in advance by calling 02 40 77 40 97 or sending an email to contact@harasdehus.com. You can contact us from Monday to Friday from 8.30 to 12.30 and from 14.00 to 17.00. Outside these hours, you can contact us on 06 88 05 26 94, preferably by SMS.
Thank you for your understanding.
The Insemination Centre Team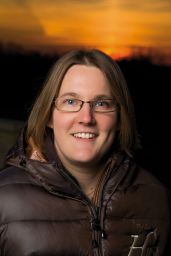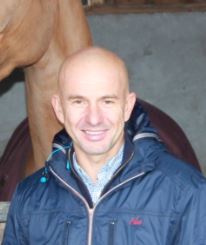 Dr Laure NORMANDIN Dr Hubert TERRIS
Insemination Centre Insemination Centre
Veterinarian Veterinarian