PEDIGREE
At present, the offspring of father JAZZ, who are on Grand Prix level, are best proof that he has the world's best genes for dressage horse breeding.
Among famous examples are/
PARZIVAL (Adeline Cornelissen)
NARTAN (Jeanette Haazen)
CHATHAM PARC JAC (Rachel Sanna Down)
NEXT ONE (Edward Gal)
ORION (Leslie Reed)
POTIFAR (Lyndal Oatley).
In these pedigrees, Jazz was crossed with a daughter of KRACK C, who had achieved Grand Prix level himself with Anky van Grunsven. Just like JAZZ, he was successful in the 2002 World Championships in Jerez de la Frontera.
A combination of JAZZ with KRACK C resulted in promising dressage talents like VIVALDI and ZHIVAGO in the Netherlands.
In his third generation, JAZZ carries the blood of stallion AMOR. This dressage stallion, indispensable in the development of Dutch breeding, reappears in this pedigree in the fifth generation in through his son HUZAAR.
There are currently various horses with jumping blood in the dressage world and in this pedigree it was brought in by the stallion DAMIRO B in the third generation, who himself is a product of the successful combination RAMIRO Z – ALME Z.
This mother lineage also contains the required blood thanks to stallions TROUBLEMAKER xx and COBBLER'S THREAT xx in the fourth and seventh generation.
The Grand Prix dressage horse RENATE (SAMBERTINO) also comes from this family.
RESULTS
Two and a half years old, he was the revelation at the approbation of the Westphalian stud-book.
3 years old, he won his stallion test in Schlieckau with a total of 149 points, with the best final score in dressage (9.25).
4 years old, he won all competitions in which he participated, and with a lot of facility won the title of French Champion in Saumur with 93.639%! He got the exceptional notes of 10 for the trot and 9.8 for the canter during the Final.
5 years old, he received 6 times the highest note (10/10) during his first competition for five year olds in 2013.He participates in the World Championship for Young Dressage Horses in Verden where he finishes 3rd of the small final and takes 6th place in the final!
"Six-years-old DON JUAN DE HUS confirms his potential as a dressage horse.
In addition to his stunning movements which are hence of worldwide renown, he confirms his excellent submissiveness, his willingness to work and his ability to learn!
DON JUAN loves to do things right, always wants to please and is very concentrated! Qualities that only add to his natural potential and which are necessary to become a GP horse! We are more convinced than ever!"
Jessica Michel
OFFSPRING
"In 2013 the second crop of DON JUAN DE HUS confirmed his qualities as a sire! DON JUAN gives his offspring beautiful long legs without making them too tall. DON JUAN also gives them strength, great movements and serenity. We are now more than impatient to discover his first generation to be presented at different stallion approvals, especially in Germany, and to see them under the saddle.."
Jessica Michel
Since his first public appearance at the westphalien licensing everybody is talking about DON JUAN DE HUS. On the one hand due to his extraterrestrial movements and his performances in competition and on the other hand due to the quality of his offspring who excel in young horse competitions and at stallion licensing.

Even though his first generation is only three-years-old in 2015, DON JUAN already has six licensed sons:
D'AVIE (mother by LONDONDERRY, breeder Dorothee Heitmüller, Germany) stood out at the Hanoverian licensing 2014. Out of DON JUAN's first crop, he not only was elected premium stallion but he also sold for the fabulous sum of 620 000 €. Under Hannah Milena Rothe DAVIE already won his first test.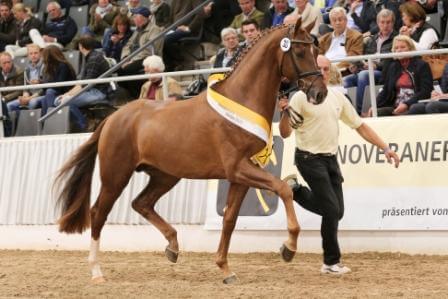 © LL-FOTO.de
In December 2014 DON FARINELLI was licensed at the stud book for German Sporthorses. Born with David and Svenja Rockstroh out of a mother by FARINELLI, he also already won a competition.
DUVALIER, out of a mother by BELISSIMO L, was licensed at the westphalien saddle-licensing in April 2015 (breeder Mathias Borkenfeld, Germany). DUVALIER won two out of three tests under Rebecca Holtwiesche.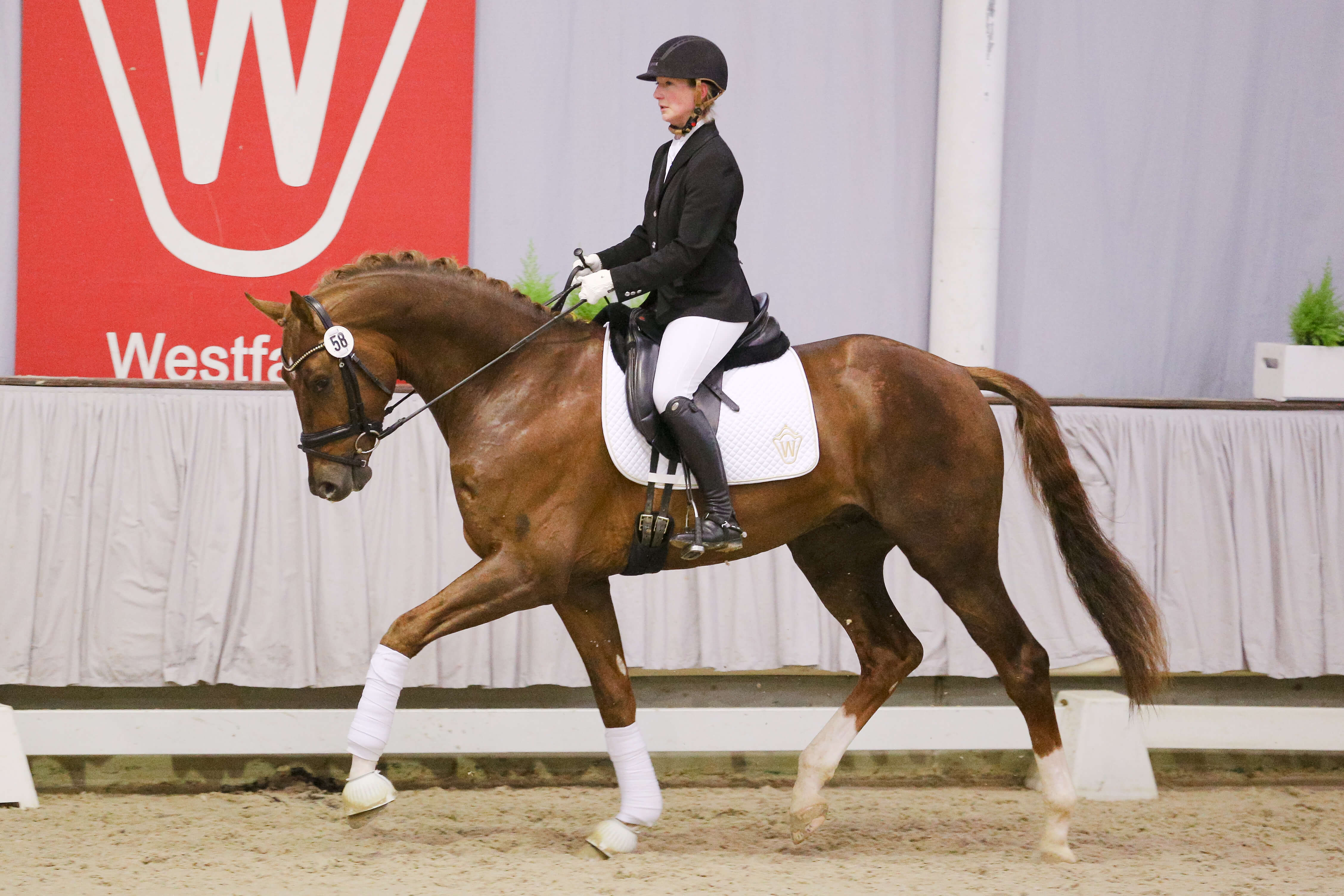 © LL-FOTO.de
DON DE HALL, (mother by DONNERHALL) was licensed in Mecklenburg in 2015 (breeder Inge Bastian, Germany).
DON JON (mother by BENETTON DREAM, maternal line of POETIN, breeder Dr. Simone Tuchen, Germany) was licensed at the 2015 Oldenburg licensing.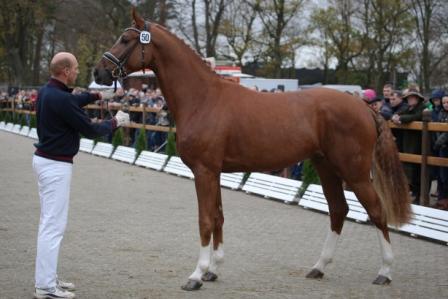 © LL-FOTO.de
D'EGALITE was the Champion and top price of the Westphalian licensing 2015 ! The beautiful black son of DON JUAN DE HUS and a mother by STEDINGER convinced with the quality of his movements, his noble looks, his long and beautiful legs… He the auction he sold for 620 000 €. He recently has also been licensed with the Hanoverian and Oldenburg societies (breeder Helmut Gieseker, Germany).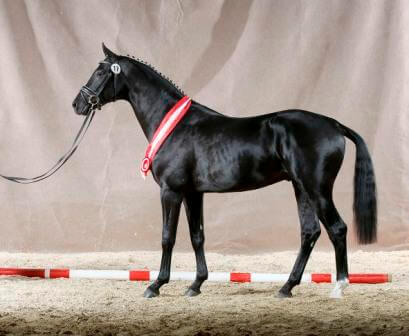 © Guido Recki