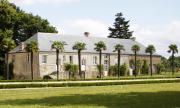 The Haras de Hus is located in « Petit Mars » , a small village next to Nantes.Our stud farm stretches out over 120 hectares of lush pastures and paddock land.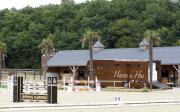 Our facilities include various setups for jumping, dressage and eventing horses, as well as a stud farm. The setup of these facilities is clearly divided between each discipline: jumping horses, dressage horses, breeding horses and young horses in training.
This way, every different entity has its own particular facilities, only sharing the main school and the indoor school. The buildings are made out of wood, which gives a certain character to the complex while keeping it very practical. The breeding horses are kept in spacious stallings.
The Haras de Hus offers about 20 stallions and many foals for sale each year. About 250 horses live on our setup, with a team of 20 people to take care of them, train and produce them. The team of the Haras de Hus is sectionned following the different disciplines and groups, which garantees us a highly specialised workforce.